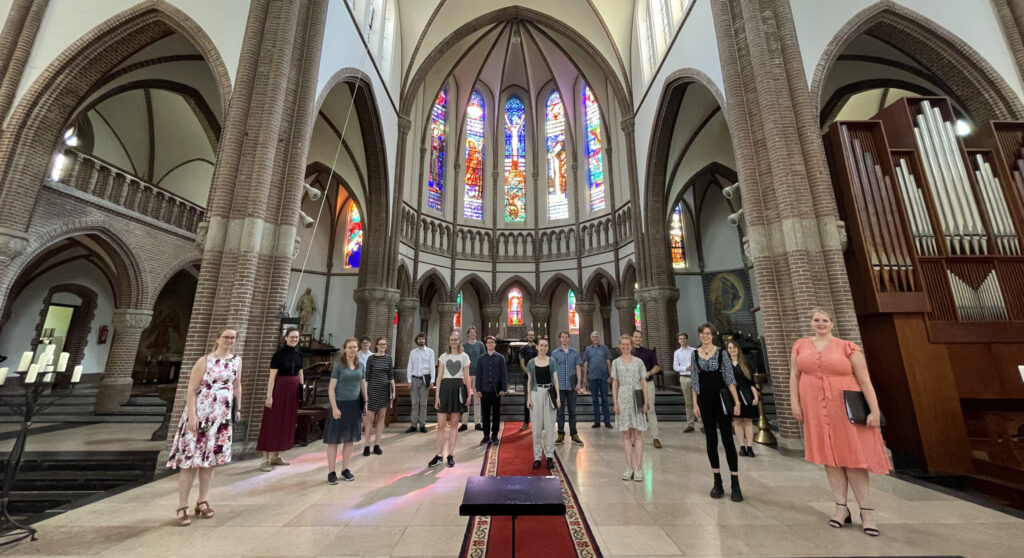 We are busy working on this website.
After our website was unfortunately hacked, we are now working hard with everyone who likes it to build a new website. Every week the website gets a little better, step by step. We're doing our best to build the most beautiful website you've ever seen before the end of August 🙂
Open rehearsals in September
The next open rehearsals are on Tuesday 7, 14 and 21 September from 19:45 to 22:15 in the Spinoza building of Radboud University. You are very welcome and do not need to register beforehand.
The recordings of the summer concert can be found online!
We have been able to give a physical performance again. Although without an audience, but with recordings. Below is one of the recorded gems. Want to hear more? Then take a look at our concert archive (coming soon) or our YouTube channel.
The NSKAD
For more than 80 years (since 1937), students from Nijmegen have been singing with great pleasure all kinds of classical works, since 1974 under the name Nijmegen Student Choir Alphons Diepenbrock. On average, the NSKAD gives two major concerts a year. It sings diverse works from modern experiments to classical masterpieces. At times overwhelming with an orchestra, at other times intimate a cappella. In addition to our own large concerts, the NSKAD also gives a number of smaller performances every year, ranging from singing Christmas Carols to enhancing various activities in and around Nijmegen with our music. Since September 2019, the NSKAD has been under the inspiring baton of Gilles Michels. In addition to musicality, we also find conviviality very important. In the first place, this means that every week after rehearsals we go for a drink at café De Kluizenaar to talk about some more. In addition, the choir also has a rich associational life with many committees that organize activities, write a choir magazine and take care of the foreign trips. Students, also from outside Nijmegen, are always welcome to join our choir! Feel free to drop by during our rehearsals on Tuesday evening and you can find more information about it here (coming soon). We hope to welcome you at one of our concerts or rehearsals!